The State News
Graduate students' art on display at Kresge
By MELISSA TALON
Thursday, April 6, 2006
The State News
Viewers who browse Kresge Art Museum through Sunday can see the work of three master of fine arts students in their last year — each with a distinct style.
Enter Aletha Noelle Israels' kaleidoscope of juxtaposed geometric shapes and electrifying colors. Gaze at one of her paintings for an extended period and your mind will be looping in and out of the painting. Focus on one detail and let your eyes spin for a while in the torrent of color and calculated chaos. Try it again. The experience will be different. She describes it as entering and leaving through different points.
"They're really supposed to be open and inviting paintings," Israels said.
Completely done by hand and produced in a mechanical-style free of brush strokes, her acrylic paintings are designed to engage viewers in an aesthetic experience. The principle behind the work is ornamentation, or decorating simply for the sake of making something beautiful.
"We are a culture that is ingrained by this kind of beauty," she said. "I really wanted to make paintings that were decorative."
"Kresgee Opening Reception"
"Kresgee Opening Reception"
"Kresgee Opening Reception"
"Kresgee Opening Reception"
Her work has spanned a seven-year evolution and just like what she terms as her "kaleidoscope environments," her favorite painting changes constantly. Right now, she favors her three most recent additions.
In the last three paintings, she has built in shapes and designs from magazine pages. Of course, those pages would hardly be discernible from the new dimension to which she takes the forms.
To create an overly condensed canvas that overwhelms the viewer, she also uses textiles, clothing articles and functional objects, which can range from a pair of socks to a logo on a coffee cup.
"They're really kind of a celebration of my visual day," she said.
While Israels' work focuses on the aesthetic, Carlos Cruz's concentrates on the meaning behind it.
"I like to know exactly what I'm doing instead of just making art," he said. "Art has walked away from the spiritual sense. In a way, it does affect us in another sense that we can't even explain."
His paintings are divided — literally and figuratively. The bottom portions of each piece are paintings on canvas and overlaid with Plexiglas coverings. Those covers are painted with complementary colors meant to be the essence of the lower painting.
So if the bottom is the actual landscape — how Cruz really envisions the place to look — the top is a deeper reflection of that. Cruz has been to the places he has painted, but won't actually paint them until he has left the scene.
Cruz pointed to a section painted purple on the plastic Plexiglas covering. Upon close examination, the purple section is a blunder, but it's part of the process.
"I have 20 seconds to decide if this is the right mark and if it's not I have five seconds to wipe it down and it still has residue of that mark," Cruz explained. He likes the idea of immediacy, of making an impression right away.
The paintings, which have no central focus, instead invite viewers to delight in the playful shadows and the way light is cast in the work. He also explains that there is a collective memory theme to the pieces. He likes when people have asked him if it's a particular place. While he painted the images with his own memories in mind, people can take themselves to a different place with his landscapes.
Japanese Wabi-Sabi theories are embedded into his work. Cruz said the concept is difficult to explain, but roughly, Wabi is a sense of space and direction while Sabi gives an object its features.
The third featured artist's work is behind a black curtain. Viewers are not sure what to expect when they fold back the curtain and enter the space.
Bam. Sensory overload.
There are indiscernible voices, what seems to be a frame of a house, images of maps and a hybridization taken by the artist, Robert Namaste, and stock photos projected onto the 3-D piece. Strewn in the space are a child's chair, plastic shopping bags, recycled cardboard and other found objects.
The audio track playing in the background is the Universal Declaration of Human Rights of 1948 recorded in six different languages and played at different intervals to represent the global impact of consumerism.
Namaste wants to make a statement about consumerism in his project, "those we are responsible to." The physical space of the work collapses as it moves out as a metaphor for how our nation deals with consumerism and pollution.
Namaste explained he formed a house frame to represent family systems and how the economy depends on free labor of mothers to survive. He was inspired by the Heidelberg Project in Detroit, which decorates urban neighborhoods with 3-D art.
The multimedia piece came together through Namaste's training in painting.
"Painting was my first language and this is how I understand putting things together," he said.
All content ©2006 The State News
Images from "Urban Spaces" are available at Cruz's web site, www.carloscruzart.net
Zeus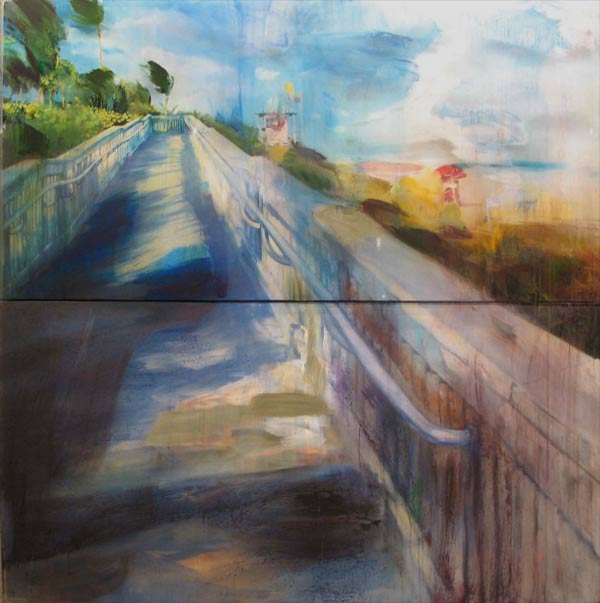 "Zeus" 2006
Oil on Canvas, Polycarbonate and Polymer Fabric
96" x 96" x 3"
"ZEUS" King of the Gods, thunder, lightning, law & order.