Art Reach 2013
Wonderful world of art on display at Art Reach, CMU, Alma galleries
By Rhonda Dedyne
Friday, January 25,2013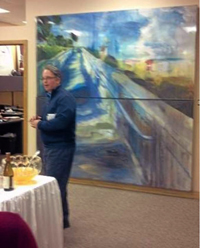 Sun Special Writer
Art.
A wonderful little, three-letter word that produces a bazillion mental images, each a reflection of an individual's past experiences with "art" based largely upon what the word means to each person. In that sense, art is ultra personal, and perhaps especially so in the visual arts which encompass a variety of mediums.
Area residents have multiple opportunities throughout 2013 to view those diverse artistic styles, courtesy of many talented artists whose works will be part of exhibits in the coming months – like "Urban Spaces: 2006-2013" by Carlos Cruz that leads off this year's season at the Art Reach Gallery in downtown Mt. Pleasant. The exhibit runs through the end of January.
Each painting in the exhibit will speak differently to every viewer, Cruz says.
"Every painting is based upon something very special to me, and was created with the intention of reaching out to the viewer to elicit a feeling unique to each person."
"Every painting is based upon something very special to me, and was created with the intention of reaching out to the viewer to elicit a feeling unique to each person."
"Art Reach Opening Reception, Eve & Lucia Elden"
"Art Reach Opening Reception"
The vibrant yet slightly blurred colors in the works contained within "Urban Spaces" are especially riveting in large canvases like "Zeus," 8x8 square-feet of majestic beauty that mixes sun and surf with cool greenery - befitting the Greek King of the Gods.
"Talk about eye catching – some people have told us this is one of the best exhibits we've ever had here," Art Reach of Mid Michigan Executive Director Kathy Hill says about the works that were created by Cruz, an Art Reach member who works as a CIS and art instructor at nearby Mid Michigan Community College.
"Needless to say, Art Reach appreciates the willingness of artists to support us in a variety of ways, not the least of which is by exhibiting their work here. Our mission of promoting an appreciation and understanding of the arts is directly addressed by this partnership with the artists, and it's especially exciting when our local artists has an exhibit because it proves, once again, that the talent in our own back yard is second to none."
Locations that are part of the fabric of his life – from New York City to the campus of Michigan State University, and the beaches of Florida to the islands and coastal villages in Greece – form the backdrop for "Urban Spaces."
"For me there are many factors that make up a painting: the stories, the history, and above all the experience of the place," Cruz says, citing physical perspective as playing an equally important role in his work. "When I can, I will usually take the canvas on location and paint from a parking lot, a hotel window, a café, a roof top or on the beach."
That unique vantage point is particularly powerful in works like "Date Night - Dionysus" where the MSU campus at night is full of life, light and beauty as seen from the top of Spartan Stadium.
"I was set up in the press box area," Cruz says about the over 5x6-foot, oil on canvas piece, adding that other high-rise vantage points - like the roofs of the Marriott in East Lansing and Radisson in downtown Lansing - provide the same type of unique perspective.
"The paintings are never large enough; my objective is to get lost in them by creating an element of abstraction that defines the urban space. For me, this visual language allows for fluidity of the brush stroke and creating a sense of movement and expression; the use of color is my mood identifier."
Canvases from the Lansing/East Lansing area were created in recent years while Cruz was working on his Master of Fine Arts degree. Others like "Ikaria - Agios Kirikos," showcase an entirely different kind of urban space that Cruz was captivated by during a visit with his Greek-Irish wife, Alethea, to Greece and the island of Ikaria in the Eastern Aegean Sea.
"I still hope to paint a few other sites that will complete the "Urban Spaces" series, before returning to working on figurative two- and three-layer pieces that are a bit more abstract and is what my focus was while we were living in New York City," Cruz says, noting some of those elements are present in paintings on display at Art Reach, like the 3x4-foot oil on canvas, Chronos – the God of Time. "If you look closely, you may see a different painting seem to appear underneath - almost a spiritual painting, portraying the mysterious, perplexing and real."
Viewers can decide for themselves during the exhibit that runs through the end of January. The Art Reach Gallery is open from 10 a.m. to 5:30 p.m., Mondays through Fridays; 10 to 4, Saturdays. There is no admission charge. For detailed information on Art Reach programming, call (989) 773-3689, or visit www.artreachcenter.org
Images from "Urban Spaces" are available at Cruz's web site, www.carloscruzart.net
Zeus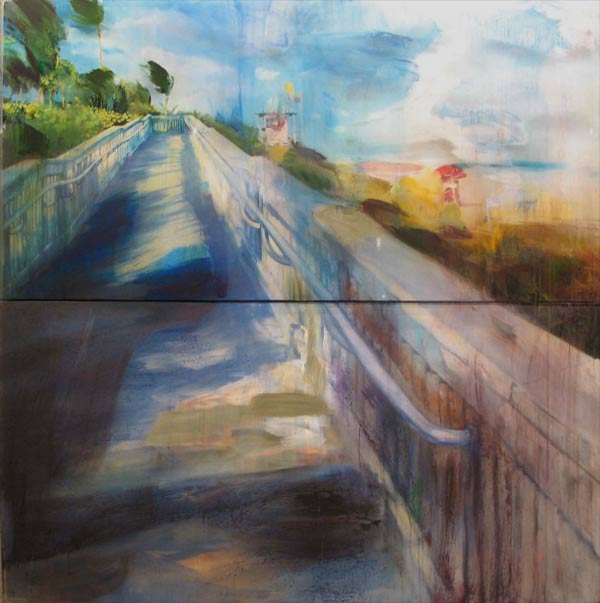 "Zeus" 2006
Oil on Canvas, Polycarbonate and Polymer Fabric
96" x 96" x 3"
"ZEUS" King of the Gods, thunder, lightning, law & order.